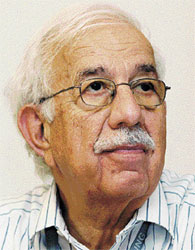 Israel W. Charny is an American and Israeli who is widely known in the USA, Europe and Israel as a leader in both family therapy and genocide studies and prevention. In both cases his work is anchored in his continuing clinical practice and professional leadership as a clinical psychologist and family therapist.
He is well known as founder and first president of the Israel Family Therapy Association, and a past president of the International Family Therapy Association, and as a co-founder and past president of the International Association of Genocide Scholars. In 2011 he was honored with a Presidential Prize by the President of Armenia "in recognition of his decades-long academic work and activities contributing to international recognition of the Armenian Genocide and his researches of denials of genocides."
He has authored two books on marital therapy, the best-selling Marital Love and Hate (1972), and Existential-Dialectical Marital Therapy (1992). He is on the Board of the Journal of Family Psychotherapy where he also recently published an article on ""Recovering the Lost Art of Naturalistic Family Therapy" (2014).
Three of his books have been awarded "Outstanding Academic Book of the Year" by the American Library Association: Genocide: A Critical Bibliographic Review (1988); Encyclopedia of Genocide (1999-2000); Encyclopedia of Genocide (editor) (1999); and Fascism and Democracy in the Human Mind (2006) – the last book is a reformulation of our concept of how the human mind works,.  His next book is entitled: The Genocide Contagion: How We Commit and Can Prevent Holocaust and Genocide? – "a book for learning about ourselves B E F O R E" and will be published in the U.S. by Rowman & Littlefield.
Also scheduled for publication by Rowman & Littlefield are two new books on psychotherapy: The first book is A Democratic Mind: Psychology and Psychiatry with Fewer Meds and More Soul. This will be followed by the publication of a second book Psychotherapy for a Democratic Mind: Treatment of Intimacy, Tragedy, Violence, and Evil.